Praise for Broken Buildings, Busted Budgets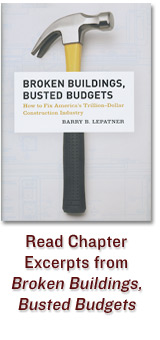 "I recently completed Barry LePatner's book, Broken Buildings, Busted Budgets (BBBB), and if I were a copy editor with a hook to write it would be: 'LePatner Book Endorses Design-Build'. Considering BBBB is a book focused on why buildings cost so much and how to solve that, I would say the above headline as a thesis is news."

Read more...

—Lee Poechmann, Owner's Toolbox
"Construction, a $1 trillion industry, is a bedrock of the mighty U.S. economy. But as Barry LePatner shows, it operates with an efficiency more characteristic of the old Soviet Union. Broken Buildings proves that waste, overspending, and economic irrationality pervade the industry, burdening consumers, taxpayers, and shareholders with enormous costs. As important, it lays out a blueprint for reform."
—Daniel Gross, columnist for The New York Times and Slate, and author of Pop! Why Bubbles are Great for the Economy
"For those of us in the industry for 30 plus years, so many of today's projects simply don't progress as smoothly as they once did because parties today are focused on pushing the risk to the other team member. Barry LePatner is certainly 'bold' in expressing this comprehensive view of historical industry data and solutions to make things better. It will certainly ruffle some feathers, but his recommended solutions for industry improvement should not be discounted but rather discussed."
—D. Clark Pile, P.E., Senior Vice President, Hill International, Inc.
"Not since The Business Roundtable raised the red flag over 25 years ago on the in-effective use of construction dollars and its impact on the global economy has a treatise provided in-depth reasoning on the culprits. Broken Buildings provides deep insight as to why the construction industry has not corrected faults to mitigate such excessive construction cost overruns and has even begin to accept these everyday occurrences as the norm. Barry LePatner describes how the U.S. government and even our nation's most respected corporations fall prey to the inefficient practices of all parties involved in a major construction project - contractors, designers, workers, unions and suppliers. From his insights it is clear that we need to instigate a critical examination on improving this critical sector of our economy."
—Mark A. Smith, Managing Director, Ernst & Young LLP
"The book is an essential roadmap for the many entities in commerce and government who only rarely undertake building construction project; where there is no base of institutional memory in the organization with prior experiences to draw from.

A reader will be shown the competing forces at work in each phase of the typical building project lifecycle; and with that understanding, then will be better able to write a contract for building construction that will be well-crafted, fair, and with a line of defense against
unreasonable extra costs from any number of sources.

Even those in an organization which regularly carries out construction work can use the book to explain to all stakeholders why things happen as they should on the project, so the focus always stays on delivering the work on time, on budget and with good final quality."
—Daniel Doucette, Past President 1993-95, Legislative Director, Mass. Association of Public Purchasing Officials
"As an architect I am aware of the positive impact that quality design and construction have on the built environment and its influence on all our lives. As construction costs rise, many times due to the inefficiency of the construction industry, owners are forced to make last minute compromises to the design including changes of materials all lowering the quality of the project and increasing maintenance costs etc. It's so refreshing to see someone finally taking a serious look at the problems and the solution. Everyone in construction, from owners to contractors, from architects to construction workers, should read this book. Those who do will surely join Mr. LePatner in his crusade to fix an industry so vitally important to the way we live."
—A. Eugene Kohn, FAIA, Chairman, Kohn Pedersen Fox Associates
"As a leading construction industry attorney, Barry LePatner knows the industry as well as anyone—warts and all. Here he sends a strong warning to owners, agencies, and institutions charged with constructing or renovating the built environment to get their act together and radically rethink their business practices. He not only zeroes in on the industry's shortcomings but also offers up cures."
—Stephen A. Kliment, FAIA, author of Writing for Design Professionals and Building Type Basics for Performing Arts Facilities
"LePatner has been addressing and serving architects and owners for many years about how to avoid falling prey to the cost and schedule complexities of a construction project. In this book, he pulls together historical facts, motivations, and realities of the construction industry with real insight. LePatner sounds the clarion call that changes must be made to fix the many problems besetting the design and construction process for the benefit of all involved with or affected by construction - whether architect, owner, contractor or taxpayer."
—R. Randall Vosbeck, FAIA, Former President of the American Institute of Architects
"As an Honorary AIA member, Barry LePatner has been a valued friend to the architectural community for over thirty years. This book is yet another reason why the profession owes him thanks. LePatner draws in detail the declining role of the architect in the construction process, yet finds shining examples of those who are leading the profession into the future. Broken Building details an important story that has national implications for cost savings to all Americans."
—Harold L. Adams, FAIA, Former Chairman of RTKL, current Chairman of the Design Build Institute
"Out of control construction costs have a real potential to damage the economy. They have certainly led many times to a disruptive relationship between design professionals who draft construction documents, the contractors who build from them and the clients who usually end up paying for the cost overrun. Broken Buildings identifies the sources of, and proposes solutions for, construction cost overruns."
—Ramon Gilsanz, P.E., Principal, Gilsanz Murray Steficek, LLP
"Sadly, the lack of significant advances and adoption of construction technology improvements has greatly contributed to the broken building environment in which we now operate. It is imperative for architectural and engineering schools to educate their students on how to work collaboratively with contractors and other project stakeholders to ensure budget and schedule success."
—Leonard Koven, P.E., Principal, Atkinson Koven Feinberg Engineers, LLP
"I just ordered two copies of your new book. One for me and one for one of the leading general contractors in the ...area who knows how to organize and who I believe would work towards a change in the current system....I take my hat off to you for undertaking a task like this, and look for you to get the industry and government agencies and private owners then the financial world to realize the potential."
—Frank W. Munzer, FAIA
"Embarrassingly accurate critique. I hope not one of my customers reads your book. :-)"
—Fernando Pagés Ruiz, Brighton Construction Company
"Owners should be mad as Hell and not take it any more! That is the theme of Barry LePatner's book. This book is a must read for any owner contemplating or currently involved in the construction of a building."
—Critical Path Mechanics
"Is this really the only way? This book goes a long ways into studying the problem and providing some real-world solutions. It is a must-read for anyone in the industry from crew-leader to executive to project owner.
Making this book a mandatory read for the submittal process would go a long ways towards helping fix some of the problems we experience on projects!"
—David Brown, Construction Industry Consultant, D. Brown Management
"I recently read your book Broken Buildings, Busted Budgets. I agree with you on most, if not all, levels, but more importantly appreciate your realizing and reporting some real issues within the industry. Boyd Jones Construction sees opportunity for change within these issues and appreciates your efforts to highlight them. I have purchased your book for numerous potential and existing clients because it validates what we have been trying to relay to them. Efforts such as yours are a long-awaited catalyst for change."
—Adam R. Herink, Vice President, Boyd Jones Construction, Omaha, NE
"I wanted to let you know how much I enjoyed your book Broken Buildings, Busted Budgets. Among my other activities, I am chairing the National Surface Transportation Infrastructure Financing Commission, and your discussion has significant implications for that work, as one of the things we hear about on the Commission is the high price increases for road construction, but few people ever discuss the reason why, other than to blame demand from other fast-growing nations. Also, I found your discussion of the lack of IT use in the industry very interesting. Again, wonderful book."
—Dr. Robert Atkinson, President, Information Technology and Innovation Foundation
"Broken Buildings, Busted Budgets is an accurate and even fascinating dissection of the imbalance of knowledge and purchasing power in the risk-averse construction industry. This imbalance leaves owners (including taxpayers) in a panic. I have purchased a dozen copies to distribute to colleagues and local government officials who are struggling to manage an aging infrastructure. By describing the historic factors which have led to cost overruns, and thoughtful contracting methods to contain those costs, Mr. LePatner has shown us the path to desperately needed solutions. By aligning the interests of owners, architects, engineers, contractors, and facility managers, we can start to create the new structures needed to keep up with rapidly changing technologies."
—Anne Elliott (Elly) Merica, AIA
"When it comes to construction industry reform, Barry LePatner never fails to hit the nail on the head—and hard. Broken Buildings, Busted Budgets is a great read for anyone who wants to find out how the construction industry really works. It's a great book and was a big hit in my office! Keep on hammering, Barry!"
—Thomas Tomsen, The Switzer Group
"For years, whether in his presentations at Harvard, his book Broken Buildings, Busted Budgets, or most recently his condemning of the mismanagement at the World Trade Center site, I have admired Barry LePatner's ability to eloquently and convincingly make the case for the need to reform the construction industry. I agree with Barry that now is the time to clear a pathway for change, and I hope more people within the industry will start heeding his call."
—Barbara Koz Paley, CEO, Art Assets LLC and Atlantic Assets Group
"I am writing to you to let you know how much I appreciate / was inspired by your book Broken Buildings, Busted Budgets! I am a Cooper Union graduate and an almost ten year working NYC architect. For me, your book put into words so many of the frustrations and challenges I have felt in both my professional and personal construction experiences. After reading your book, I could really envision positive solutions to these challenges. Thank you again for your incredible book."
—Jean Brownhill Lauer, CEO and Founder, www.Swee10.com
From the blog Pennings Pennings: On Political Economy and Digital Media:
"For a devastating diagnosis [of the construction industry], Barry B. LePatner's Broken Buildings, Busted Budgets: How to Fix America's Trillion-Dollar Construction Industry is a good place to start, and it must be a start, as this critical problem plaguing such a large percentage of our economy is not even on the public's or policymakers' radar screens."
—Anthony J. Pennings, Ph.D.
My pleasure in reading Broken Buildings, Busted Budgets was probably amplified by finding my own book footnoted and quoted frequently. But it was not only for that reason I found your book so satisfying and enjoyable. It took me into areas of the world of building I had not visited before and extended my understanding of solutions to problems in the construction industry. Reading it was like having a lively conversation, or at times a vigorous debate, with fellow professionals who have thought long, hard, and effectively about the challenges faced by builders. It is the most thought- provoking book on major business problems in our industry I have ever read. It is just terrific. Thanks for writing it.
—David Gerstel, Builder and Author of Running a Successful Construction Company
I read Barry Lepatner's book, "Broken Buildings, Busted Budgets" a little over a year ago. I just finished skimming through it again in preparation for a meeting with a contractor on a possible development project. It really is excellent! The sub-title, "How to Fix America's Trillion-Dollar Construction Industry" (now down some 35%) is a little ambitious, but he offers up some concrete measures that should be taken to heed.
We developers tend to fall in love with the image in our heads of what a building is going to look like and lose sight of the infinitesimal detail that is the difference between success or failure in a project. Problem is, the critical information that we need to have is under the control of the contractor…and the owner is at his mercy. The key to fixing this problem, according to Lepatner is to have truly fixed price contracts. Overruns? You don't get to pass it on to the owner. The contractor is incented to get the project done on time with this method, and there are no cost sharing arrangements if he comes in under. The challenge, of course, for the developer is that he has to risk going to a full set of construction drawings before he REALLY knows if he has an economically viable deve lopment. Nevertheless, on a large project, this may well be worth the cost…the alternative is a tall stack of change-orders.
It's worth the read – if you've developed or are a contractor, you will find yourself doing as I did, muttering – "dang wish I had thought of that before!"
—M2H Musings Blog (http://m2hgroup.wordpress.com/2009/08/25/broken-buildings/)
Barry LePatner knows that the construction industry needs massive reform. Over the past few years, he has almost singlehandedly started a national debate among those inside and outside the construction industry over what can be done to overhaul the trillion-dollar industry that is driven by cost overruns, project delays, and perpetual waste.
—HousingZone.com (http://www.housingzone.com/article/CA6638239.html?q=)